Dear Readers,
A few highlights from the past couple of weeks:
Developing fluency with skip counting  and number patterns.
Outdoor Missions: This week, the children in Readeville completed their first 'outdoor mission', as part of Outdoor Learning Day. The children have loved setting up our garden and watching their own patch of nature take shape, and were excited to extend their focus to other types of learning outside. This week's mission: Get from point A to point B without being seen by a single bird. We hope to complete an outdoor mission each week.
Novel Discoveries: Simone, our teacher librarian, reviewed a whole lot of junior fiction for the year ones and twos, many of who are discovering the delights of novels. The children are now super excited to get back to the library to choose a new batch of books to enjoy.
Storybird: We have been using the online program 'Storybird' to create online Ebooks. Students have their own login and can continue their stories at home if they wish.
3D printing: We had another opportunity to explore the 3D printing Makers Empire app.
Read to Someone: We are practising fluency and also celebrating shared stories as part of our reading program. In maths, we are investigating this guiding question: What makes a pattern a pattern? We are also continuing to build a positive culture around working through maths problems and challenges. In handwriting, we are working on correct formation of chicken, giraffe and monkey letters.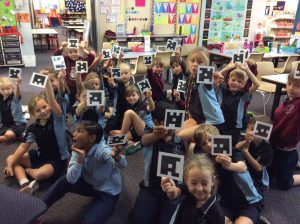 We love using the Plickers app to support our learning!
⚫️🔵Board games: Next week, Readeville will start a History inquiry into toys and games – their past, their future and what makes them successful. This inquiry will be linked to a pilot 3D printing project at the school. As part of this, we are asking children to bring along a non-electronic game (eg a board game, elastics, knuckle-bones). We will need the games by next Thursday (May 25) please.🔵⚫️
Bully No More: Next Tuesday (May 23), the children will be watching the play Bully No More, as part of our Health curriculum. There is no cost for this play.
Farewell Bella: We said farewell to Bella this week because her family is moving interstate. The children enjoyed a popcorn party to celebrate Bella and all of her learning at Colonel Light Gardens Primary School. Bella has been a remarkably caring, thoughtful, conscientious member of the Readeville community and we wish her and her family well.
See you next week,
Marie 😀